Carrier reviews. Free, forever. Guaranteed.
Join our online community and contribute to our growing library of carrier reviews.
Authentic
We validate our user community to ensure that reviews are submitted honestly.
Start now
Balanced
We notify carriers of all reviews. They are always given a right to reply.
Start now
Free to use
Did we mention that our reviews are free? Free to post, free to read. Forever. Guaranteed.
Start now
How do our carrier reviews work?
Search for reviews on any carrier by DOT or MC number.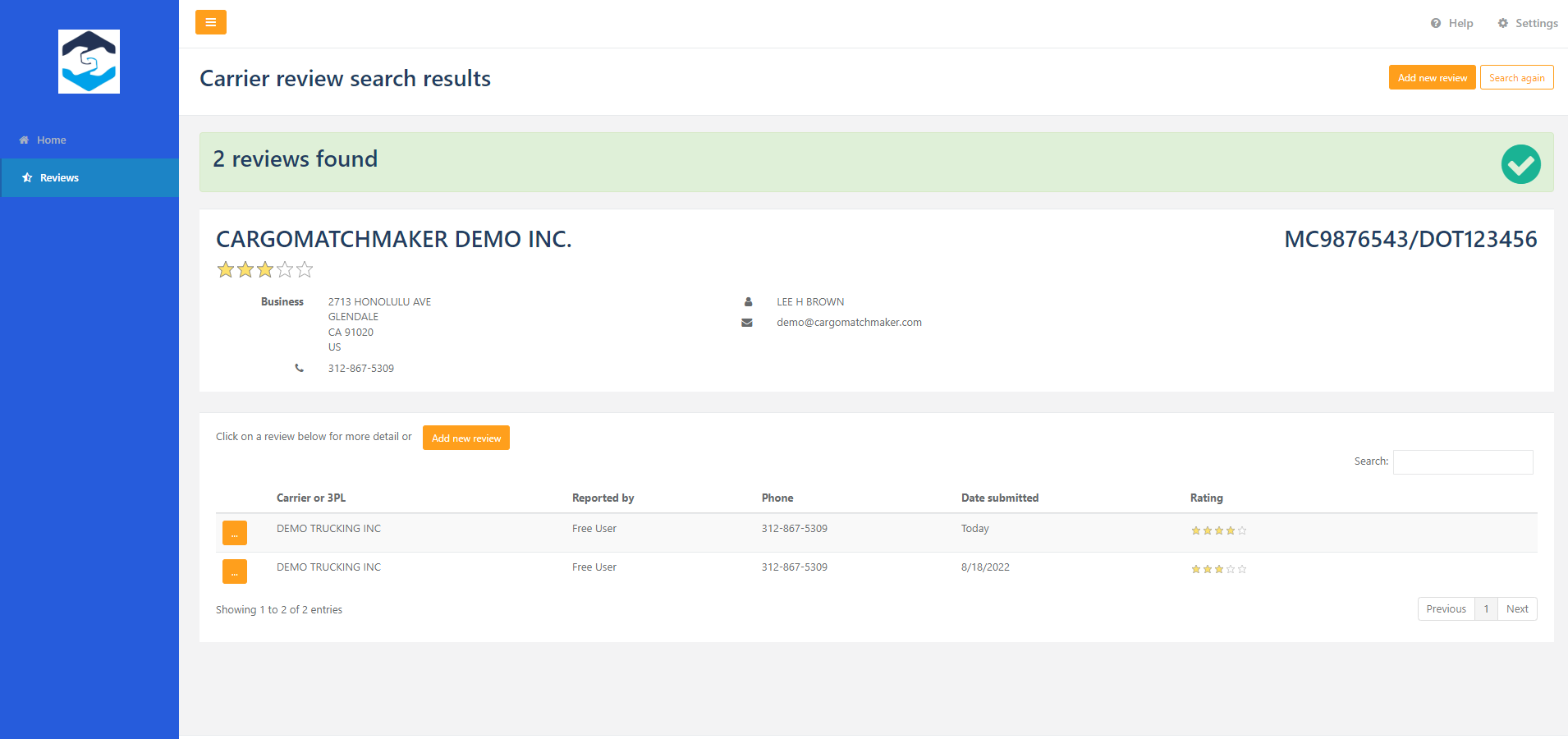 Write and share a review on any carrier that you have worked with.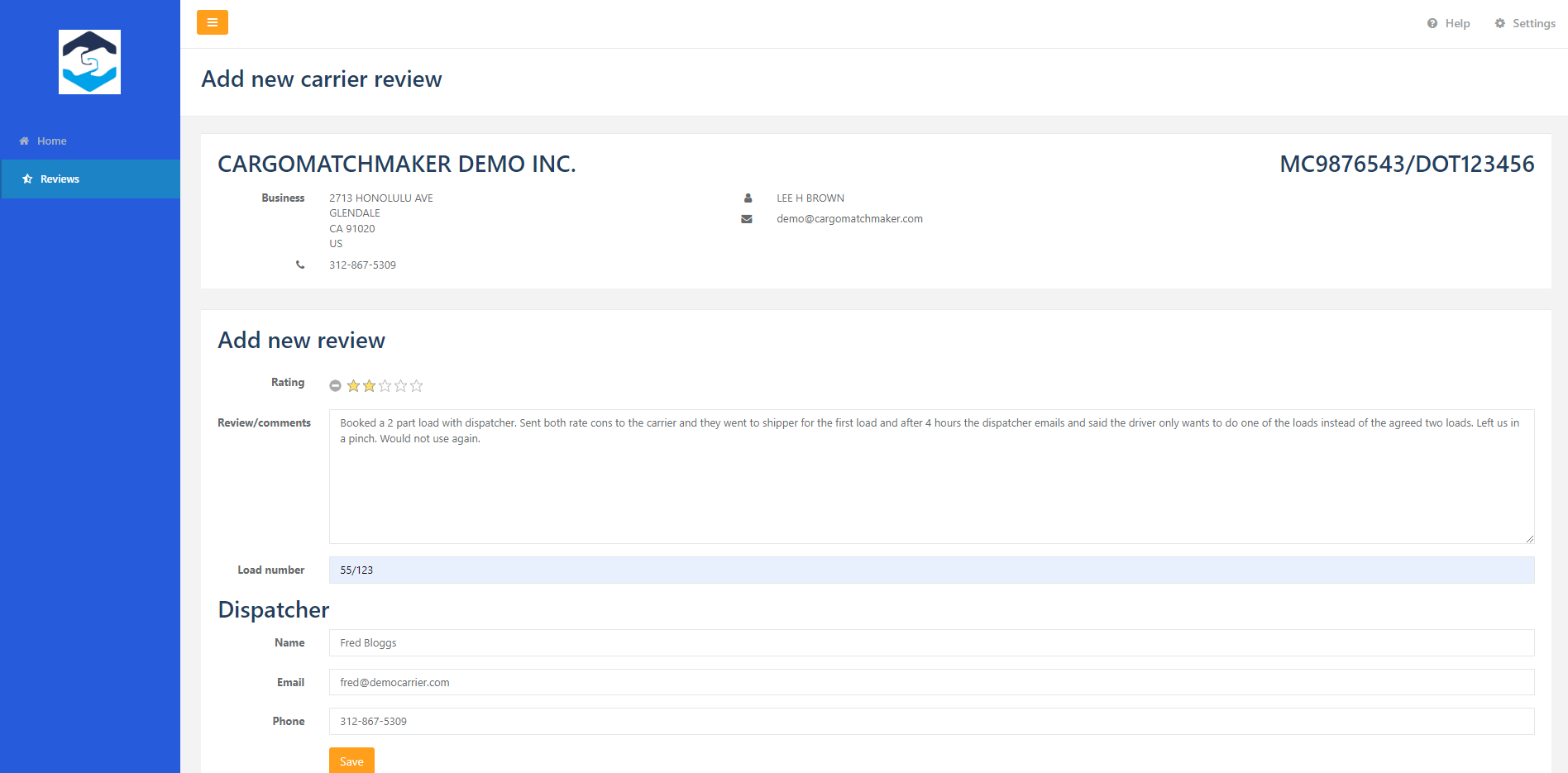 Carriers are always given the right to reply to any review that you contribute.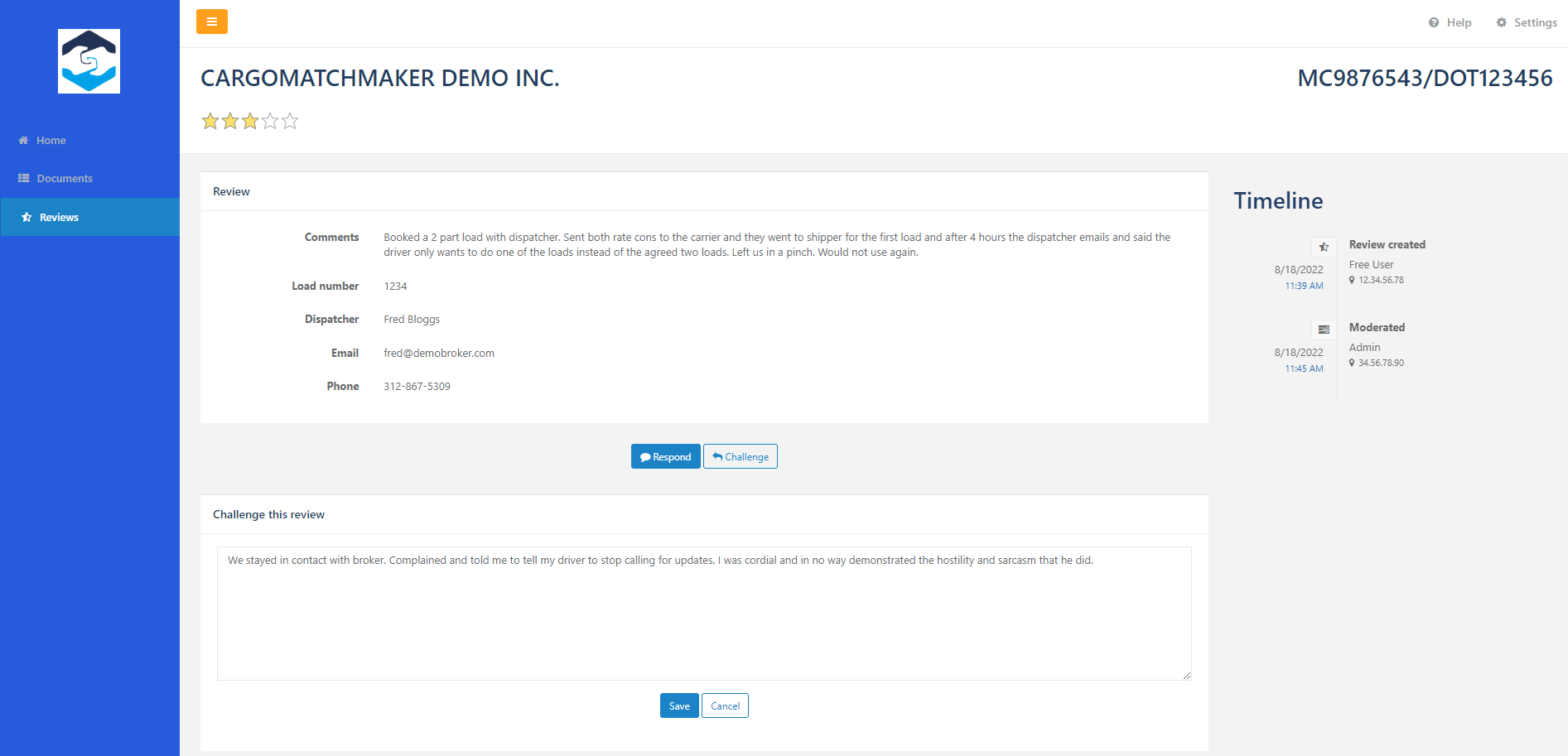 Provide further comments or document evidence in response to any carrier reply.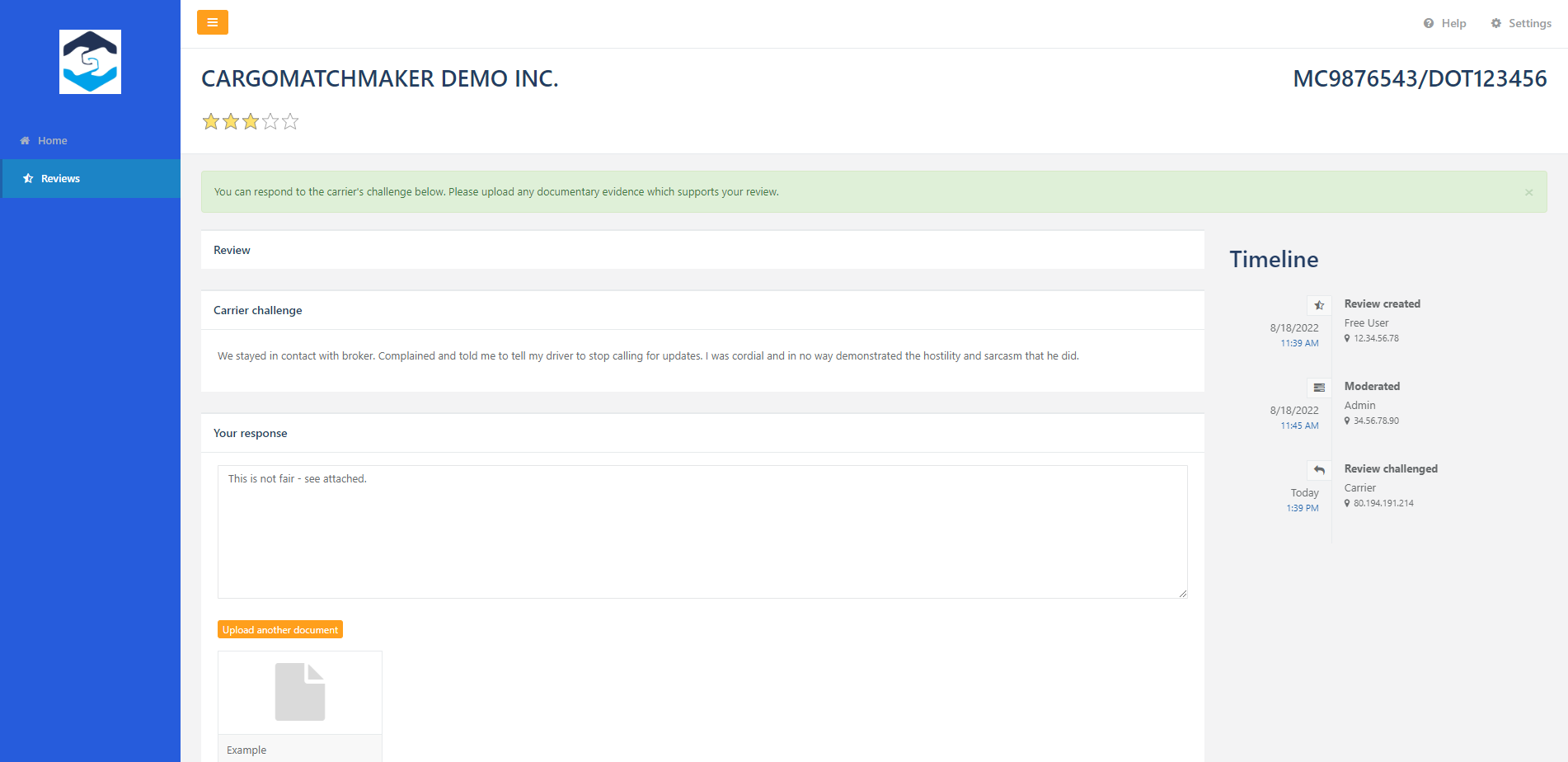 Carrier onboarding
Evaluate and onboard any carrier with two clicks.
Make better decisions faster with customizable criteria
Build an unlimited number of customized selection criteria. Evaluate any carrier against your criteria with one click. Approve and onboard a successful carrier with another click.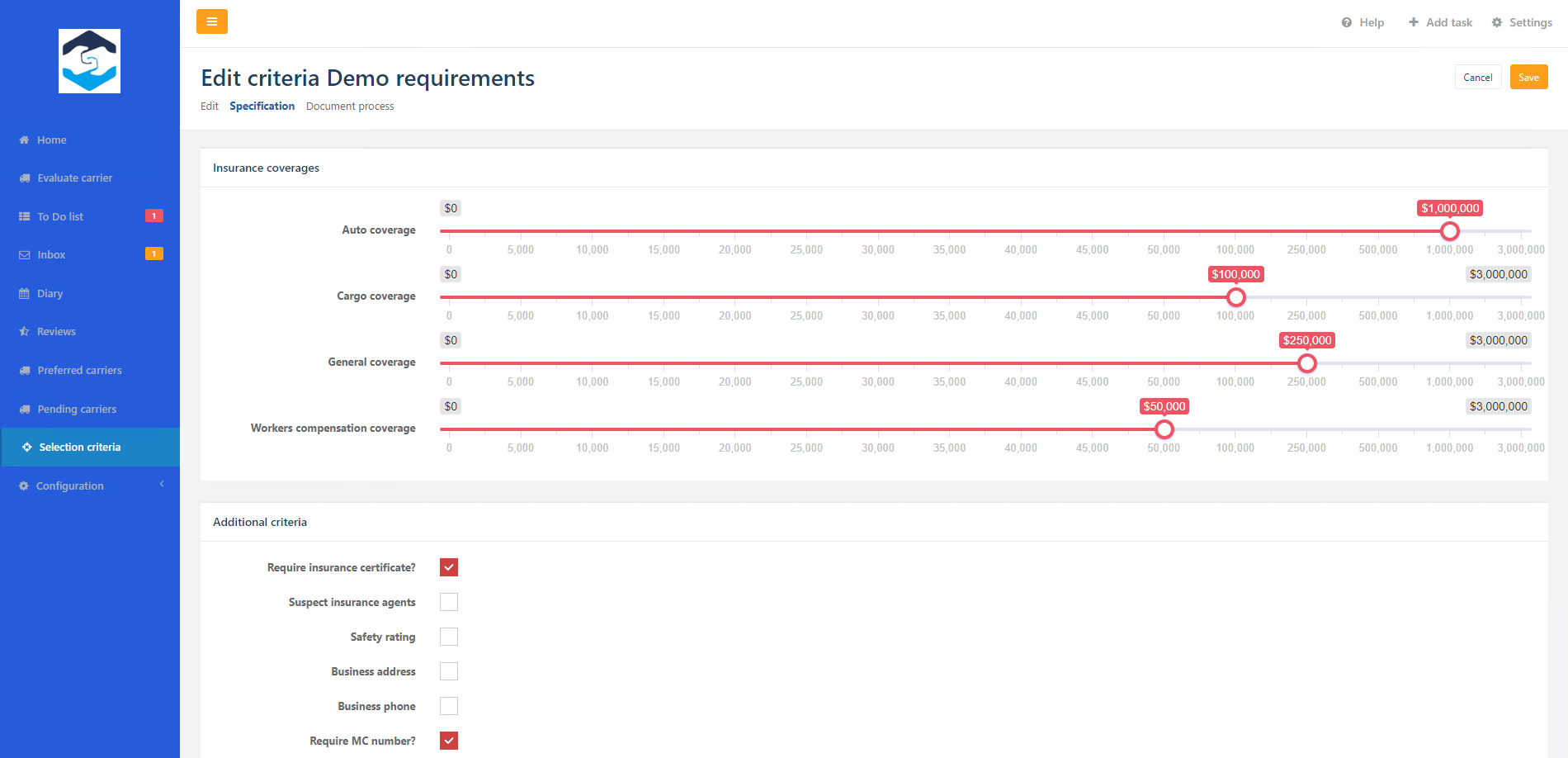 No more switching between multiple screens
Your dashboard provides a complete view of a carrier on a single screen, with at-a-glance indicators of their history and performance. See the information you want in the order you want to see it. Click any tile to drill down into their profile.
Engage carriers faster with electronic signatures
Electronic document signature handling is built in. Upload and configure your existing carrier agreement documents. No third party components are required. No licences for any additional products.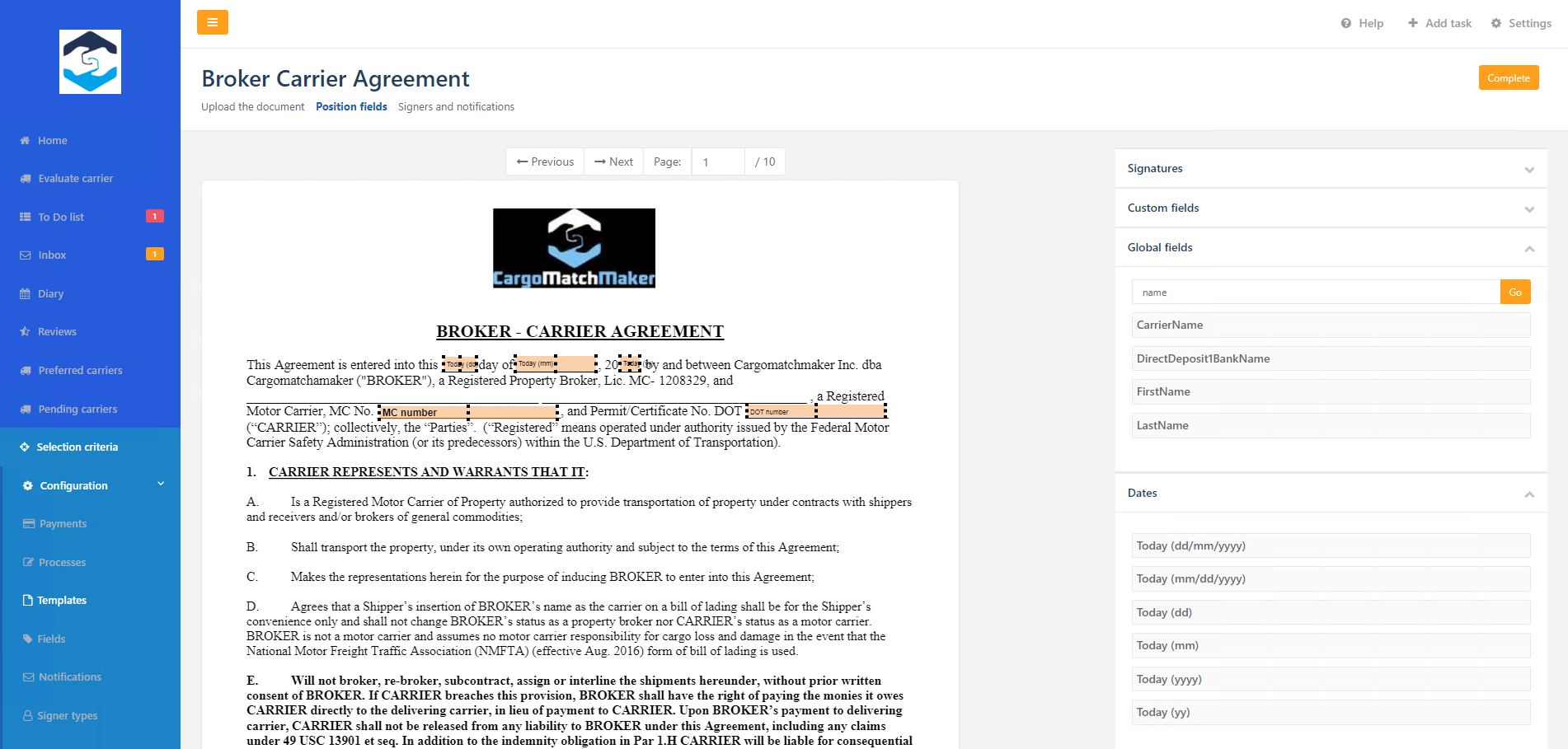 How does automated carrier onboarding work?
01
Identify carrier
Identify any carrier using their DOT or MC number
02
Apply onboarding template
Apply your customized onboarding criteria to the carrier
03
Evaluate carrier
Use our fraud detection tools to evaluate the carrier
04
Approve or reject carrier
Reject an unsuitable carrier or proceed to onboarding with one click
05
Onboard carrier
Receive the carrier W9, payment information and a signed agreement automatically
06
Load to your TMS
Use automatic integration with your TMS to load carrier details seamlessly
Carrier evaluation
Avoid potential fraud and check carrier suitability using any combination of checks from our library of criteria.
Workers compensation coverage
Integration
Access our API library to integrate seamlessly with leading TMS platforms or explore our API documentation to integrate with your proprietary TMS.
Pricing
We think pricing should be simple and clear. Pay for what you need. Don't pay for what you don't.
Up to 500 shipments per month
$499.00
Monthly charges
Unlimited carrier reviews

Customizable carrier evaluation

Fraud detection

Automated onboarding

Automatic carrier monitoring
Create account
500 to 3000 shipments per month
$1099.00
Monthly charges
Unlimited carrier reviews

Customizable carrier evaluation

Fraud detection

Automated onboarding

Automatic carrier monitoring
Create account
More than 3000 shipments per month
$1999.00
Monthly charges
Unlimited carrier reviews

Customizable carrier evaluation

Fraud detection

Automated onboarding

Automatic carrier monitoring
Create account